INTERIOR DESIGN
Programming
Space Planning
Furniture & Systems Layouts
Finish Specifications 
Our highly trained interior design staff offers a variety of services to meet your individual needs. We understand every project is unique therefore we ask a lot of questions and listen to each customer's needs and then provide the best solution to meet those unique circumstances. We are skilled in programming, space planning, furniture and systems layouts, and finish specifications. Our services are flexible and range from consultation to providing you with complete installation documents.
When you purchase furniture from KOW, there is never a fee for the design and specifications for the layouts of the furniture.  We charge an hourly rate for space planning to reconfigure existing furniture.
Our senior interior designer, Lynne Dunn, is registered by the state and is NCIDQ qualified.  Contact her at ldunn@kyser.com .
---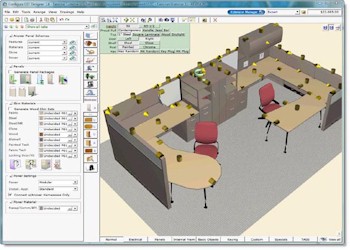 Design Tools:
We use different computer aided design programs to design, create and specify the best layout for your interiors. We offer 3D color renderings of the furniture as needed to assist you in visualizing your future workspace.